By: John Elder posted in Internet Marketing
Hello good people!
Wow, It's been a while, but I'm back! Did you miss me?!
I want to apologize for falling off the face of the planet for the last 6 months or so, but I'm back and I'll be posting articles much more regularly from now on.
So what have I been up to? Lots!
First of all, I got married a few months ago, which was pretty awesome if I do say so myself. My wife and I got married here in Downtown Chicago at the beginning of May, and now we live in the River North neighborhood, which is fantastic.
Second of all, I've been working full time on a brand new – massive scaled project called Elder Academy: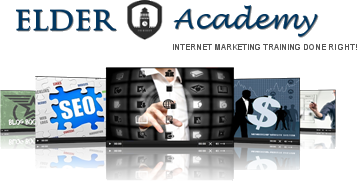 It's my very own online "school" that teaches Internet Marketing! I'm pretty excited about it!
Basically it's made up of different Internet Marketing courses, and each course is made up of videos, mostly screencast videos where I actually walk you through whatever things I'm teaching you – first hand. Students can post questions, etc as the course moves along…and you can watch the videos at your own pace.
So far I've developed about nine courses:
Kindle Publishing and Marketing
JumpStart Search Engine Optimization
PHP Programming for Affiliate Marketers
Thin Affiliate Website Domination
Upsell Riches: Selling More At Checkout
Blog Bootcamp: Building A WordPress Blog
Propel Membership Website Creation System
A Digital Marketing eBook Library
Make Your Dog Famous – Social Media Marketing (coming soon)
Right now students can sign up for whichever individual courses they want, though I plan on adding the option to sign up for "all" courses soon.
The site has only been up for a couple months but we've already got nearly 300 students and so far the reviews have been off the charts positive.
I suggest you take a look at the "Thin Affiliate Website Domination" to get a new take on my thin site strategy. I think you'll really like it. (http://www.elderacademy.com/thinsite.html).
Use coupon code warrior2013 to get a 50% discount for the next 3 days.
I'm constantly adding new courses and really enjoy teaching people my Internet Marketing techniques using video. It's a lot of fun!
Future Plans..
I plan on continuing to create courses at ElderAcademy.com and also blog often right here. My focus for MarketingFool.com will be to write articles about making money online using a variety of Internet Marketing Techniques.
I'll be focusing less on adsense websites, and more on lots of different areas of Internet Marketing.
Stick around, it should be good!
Talk Soon…
John Elder
The Marketing Fool!