Quick Index Software – Free Today!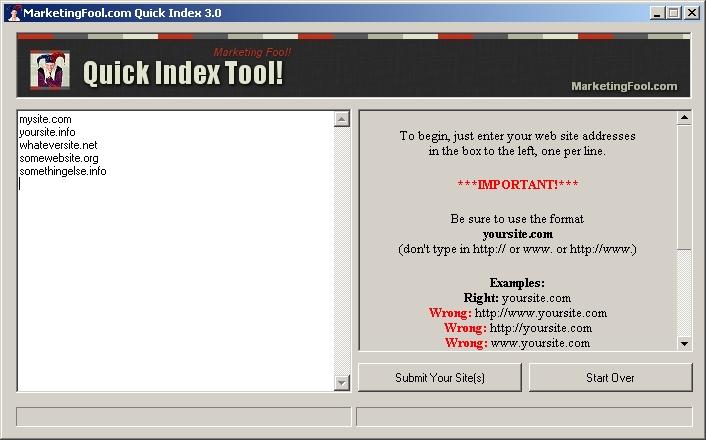 Hello good people!
If you've been following my blog for a while you know that my method is pretty unique and involves creating hundreds, even thousands of websites. You can make a ton of money doing that, but only if you do it correctly. The trick is to automate as much of the site creation and deployment process as possible.
You can't make money if no one comes to your websites!
One major problem that people tend to have when developing tons of websites, is how to get them all quickly indexed at Google. If you're building dozens of sites a day, you probably don't have time to manually submit each one to Google, or do much of anything at all to get them indexed quickly.
That's why I built this software…
My Quick Index software is designed to to one thing; get all your websites indexed at Google as quickly as possible without you needed to spend ANY time doing it!
How does it work?
It's pretty simple. All you do is type or paste a list of all the websites that you want to get indexed at Google into the box on the left hand side of the software (screenshot above). Then just click the Submit button and sit back! The software does all the work.
What it does is submit the URL of each website to about 20-30 websites that Google indexes constantly. These are mainly whois type sites, or website evaluation sites, or website valuation sites.
Google spiders those websites, see's a link to your site, and promptly indexes your site. Why does Google do that? Because they pride themselves on being the most up to date search engine on the planet. It doesn't do well for other websites to be talking about your site when Google doesn't even have that site in their index!
Think of it as the cyber version of peer pressure.
How much does it cost?
My software is COMPLETELY and TOTALLY free. All you have to do is fill out the form below to subscribe for free to my daily MarketingFool.com newsletter. Every day I write about my Adsense journey, sharing what's working and what's not.
That's it. That's all there is to it!

Frequently Asked Questions:
How often should I use the software?
Just once, submitting more will have absolutely no effect.
Do I submit the pages of my site or just the main URL?
Just submit your URL (ie yoursite.com) DO NOT Submit any pages (ie yoursite.com/weedeater.html), if you submit pages the software will not work and your site will not get indexed at Google.
Should I submit sites that are already indexed at Google?
No, only submit new sites. This tool isn't for increasing ranking, it's JUST for getting your site indexed at Google initially.
Will this help improve my Google ranking?
No, it won't increase your site's page rank, and it won't increase your sites ranking at Google. It is only for indexing new sites at Google.
Will this work with affiliate sites/urls?
No, this will not work with affiliate sites because they are separate pages of an URL (ie sitename.com/affiliate/youraffiliatenumber.html) and this software only indexes URL's not pages of sites.
Software Requirements: This is Windows software (sorry mac people) and requires the latest version of the Microsoft .Net framework (you've probably already got it on your computer).
To get your copy of my Quick Index software, just subscribe for free to my email newsletter by filling out the form at the bottom of this page. As soon as you confirm your email address I'll automatically email you download instructions for the software.
Keep on building!
-John
The Marketing Fool!