By: John Elder posted in Internet Marketing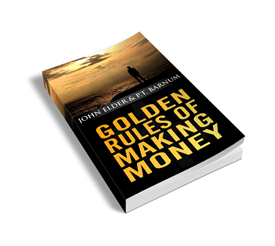 By: John Elder
The Marketing Fool!
When it comes to making obscene amounts of money online, there are basically just two ways to approach it…
You can either learn specific skills and tools to create income streams; or you can take a more broad approach and learn the basics of success in general.
Personally I think you need a healthy blend of both of those. The first fortune I ever made didn't last long because no one ever taught me how to KEEP the money I made. I needed to learn the broad strategies of success.
Think of it as a philosophy of success. It's that knowledge that really rich people pass on to their children from generation to generation…
Of course, that kind of knowledge is hard to come by! It's often a series of closely guarded family secrets, or something you pick up at an Ivy League college. Unless you're born with a silver spoon in your mouth, chances are you've never heard of these secrets.
But now you can learn 20 of them…some might call them the most important secrets of money making.
And You can learn them for free today!
Everyone's heard of P.T. Barnum (of Barnum and Bailey Circus fame). He was arguably the best showman and salesman the planet has ever known.
He's often remembered for coining the term "There's a sucker born every minute". Funny enough, he never actually said that!
What he did do was create buzz and excitement wherever he went. He could sell ANYTHING.
What most people don't know is that he also wrote a little book (less than a hundred pages) laying out his strategies for making and keeping money.
I've read tons of books like this over the years, and very few are as hard hitting, straight forward, and amazing as Barnum's 20 Golden Rules.
And today you can get a copy for free. Barnum died over 120 years ago…so his book (if you can find it) is pretty hard to read. It's full of old English that's kind of hard to understand.
But I've acquired the rights and edited a new version of the book. I didn't change anything, I just went in and cleaned up the old English and translated it into modern English so that it's easier to read.
To download a pdf version of the book right now, all you have to do is subscribe for free to my MarketingFool.com newsletter by filling out the form below. Once you confirm your email address, I'll automatically email you a download link.

Why am I giving this book away for free? I could easily charge $29, $49…or even $99 for this masterpiece, and it'd be worth every penny at those prices!
The reason I'm giving it away for free is because I think it's THAT important for you to know both sides of the success coin. I sell lots of books, study courses, and pieces of software geared towards helping you make a ton of money online.
But it's all for nothing if you don't understand the underlying strategy of success…and this book will give you that strategy. Download it and enjoy!! Then come back here and leave a comment below telling everyone else how amazing the book is!
-John Elder
The Marketing Fool!